Choose CLC Christmas Lighting & Decor San Diego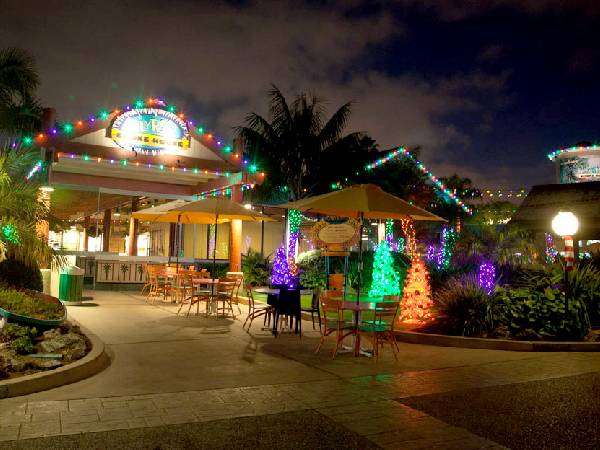 We Focus Serving Your Holiday Lighting Needs. You Sit Back and Enjoy the Season.
We always take great pride in our work, using only the finest commercial-grade equipment which has been safety tested and UL approved. As for service, we are confident that if you ask any of our customers, they will tell you, "Our service is second to none!" Our trained, professional service technicians (backed by certified electricians) are in the field at all times and available whenever necessary. We are fully insured, carry workman's comp, and our employees undergo an extensive background check to ensure we deliver only the highest level of service to our customers.
Decorate your mall, shopping center, bank, church, or office building with holiday lighting. Building front and rooftop items include over-sized displays, giant wreaths, and huge artificial trees up to 140′!
Wrapped trees, banners, and garland on light poles continue the look throughout the property.
Decorate your rooftop by outlining rooflines, and dormers. Compliment the front of your home with lights around such things as windows, doors, and other distinct features of your home. Other options include the lighting of bushes, hedges, and trees, as well as the outlining of flowerbeds, walkways, and driveways with staked lights. Add wreaths and garland for that finishing touch.
We attribute our success with the company's business model, strictly following the philosophy based on (1) Quality Installation, (2) Prompt, Professional Service, (3) A Fair Price. Within a few years, this basic business had lifted us from a part-time seasonal business into a year-round, full service, "turn-key" operation.
Let our team of specialists design and build your custom Santa House or Winter Wonderland. We will create a unique experience for you and your customers, including all phases of design, construction, décor, installation, service, removal, rental, and purchase. Whatever you may need to make that special Holiday come to life, The Christmas Light Company is here to make all wishes come true.
We take pride in our work, but more importantly, we stand behind it. We not only guarantee that you'll love your lights, but we also offer repair and warranty service to make sure your lights look great all season.
We enjoy working hand in hand with our customers! Tell us what you think makes the ultimate holiday lighting project, and we'll help you bring that vision to life! CLC Christmas Lighting & Decor, San Diego takes pride in making your holiday dreams come true.